Tools for CNC Programmers
---
StickFont v1.1
This program converts text to G-Code using a single stroke font. There are many cases where this is preferable to using True Type fonts particularly when the lettering needs to be fairly small.
To use this program simply fill in the settings for the text to convert and the G-Code output then click "Save as G-Code" or "Save as DXF". The GCode header and footer settings can contain any additional program blocks that may be required by your particular control.
Additional fonts can be added any time and can be easily created using any text editor.
StickFont v1.1 is FREE, download it here
New features for version 1.1
Text on Arc - This version adds the ability to create text on an arc.

Mirroring - You can now flip the text output in either the X or Y axis.

Character Spacing - There is a new slider control that allows you to adjust the spacing between characters.

Save As DXF - Write the output file as a DXF drawing file.

Convert True Type fonts to CHR fonts - Instantly create CHR font files from any True Type font.

Decimal Places - Select 1 to 5 decimal places for the G-Code output.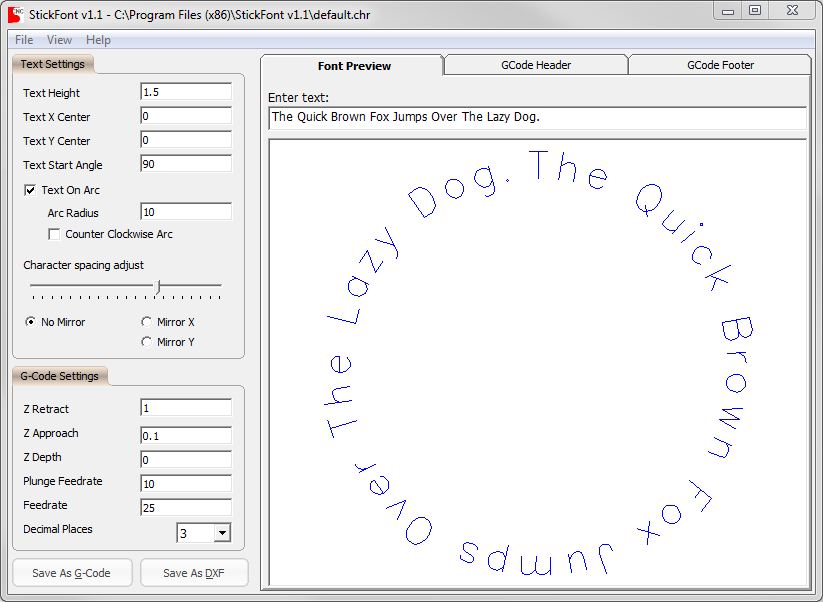 Click image for a larger view
StickFont Font Pack
This font pack contains 14 additional fonts for StickFont.
Click here to download the font pack.
To install the fonts in StickFont v1.1 - unzip the font pack to the "\Program Files\StickFont v1.1\Fonts" folder.
To install the fonts in StickFont v1.0 - unzip the font pack to the "\Program Files\StickFont" folder
---
Here are samples of the fonts in this font pack:

GOTHGBT.CHR

GOTHGRT.CHR

GOTHITT.CHR

GREEKC.CHR

GREEKS.CHR

ITALICC.CHR

ITALICT.CHR

RBFONT1.CHR

ROMANC.CHR

ROMAND.CHR

ROMANS.CHR

ROMANT.CHR

SCRIPTC.CHR

SCRIPTS.CHR